<< Back to articles
Weird and Wonderful Live Event Venues.
Andy Robertson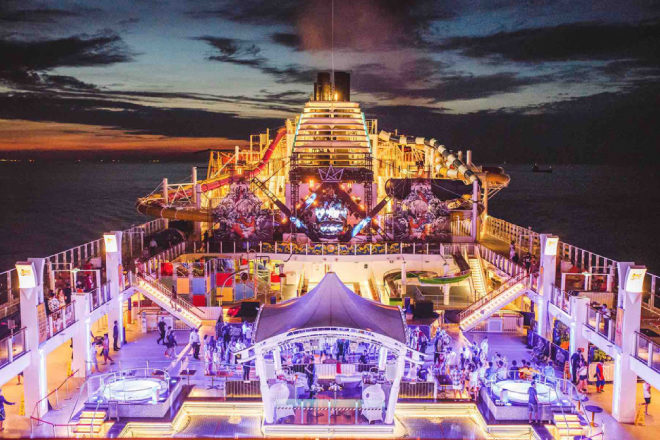 In days gone by a music festival was generally held in a farmer's field somewhere and many still are. Any event organiser trying to launch a new music festival needs to differentiate their event from all the many other music festivals taking place. In recent years some music festivals have used innovative locations and venues to spice things up.
If you have ever been skiing to the Austrian resort of St. Anton you may have noticed the nightclub situated halfway up the mountain called MooserWirt. Opened in 1989 it's a place that you can only get to by skiing down the mountain in the winter season and it gets packed every day. This spurned on numerous music festival lasting days at popular ski resorts during the winter months. Probably the most well-known European winter music festivals are 'Snowbombing', a week-long festival in Mayrhofen, Austria and 'Tomorrowland Winter' another week long music festival in Alpe d'Huez, France.

Staying with a European theme if you want something different look no further than the 'Exit' music festival held at the 18th century Petrovaradin Fortress in Novi Sad, Serbia running at the same unique venue for 20 years. One of Germanys largest electronic music festivals 'Melt!' takes place in Ferropolis: The City of Iron, a huge coal mine museum. For a truly industrial feel festival goers have access to large industrial mining machines to explore and dance in.

Moving further north to Rättvik, Sweden is the 'Into the Valley' music festival located in an old limestone quarry called Dalhalla, a natural amphitheatre with three stages. There is even an aquamarine pool of water behind the main stage. Not far away in Norway is the 'Traena Festival', apparently in one of the most beautiful places on earth with a jaw-dropping backdrop. Located on a couple of small islands off Norway's northern coast its only accessible by boat. Meanwhile in Reykjavík Iceland, there is the 'Secret Solstice' three-day music festival that features 72 hours of continual daylight taking place during the Midnight Sun.

Finally, one of the world's most unique festival locations is actually a cruise ship, aptly named the 'It's The Ship' music festival taking place every year in Asia. The music festival cruise ships sets sail from Singapore making its way to Phuket in Thailand and then returning to Singapore. The luxurious cruise ship has non-stop music plus the usual festival activities.

Certainly, if you are considering an unusual venue always consider the logistics of organising such an event. There may well be no electricity or water supply and access could be difficult if not impossible, imagine trying to deliver and set up sound equipment when the nearest road is miles away. It will be a challenge for sure but you may well end up creating something unique and memorable.

If you use an events management software solution like FestivalPro it already has built in functionality for all your event management needs. The guys who are responsible for this software have been in the front line of event management for many years and the features are built from that experience and are performance artists themselves. The FestivalPro platform is easy to use and has all the features you need to plan and manage every aspect of your music festival wherever you choose to locate it.
Andy Robertson
<< Back to articles
Contact us
---
Get in touch to discuss your requirement.
US: +1 213 451 3866 (USA)
AU: +61 (0)3 7018 6683 (Australia)
UK: +44 207 060 2666 (United Kingdom)
Or use our contact form here.