<< Back to articles
The Global Trending Interest in Music Festivals.
Andy Robertson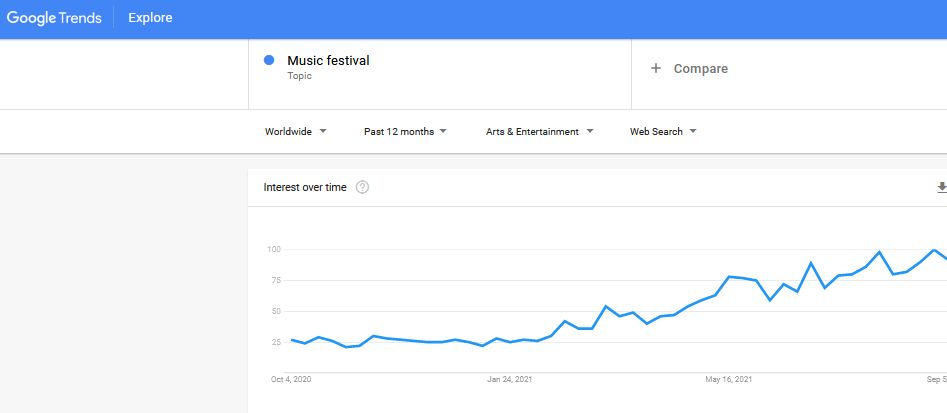 Music festivals have always been popular and interest in them has been on the rise over recent years. With the coronavirus pandemic causing the cancellation of just about all music festivals interest waned a bit but has certainly picked up in recent months. What does Google Trends indicate the current level of interest.
Google Trends is a free to use website that analyses the popularity of top search queries in Google Search across various regions and languages. The data uses an index rating where 100 is the maximum score. The global search for 'music festival' had an index of just 27 in October 2020 at the height of the coronavirus pandemic at a time when most people were more concerned about other factors like healthcare, lockdowns and job security for example.

Since the end of 2020 the interest index has risen gradually over time and really started picking up around March this year hitting an index of 54 perhaps as people could see a realistic end to restrictions. It has since risen to an index rating of 100 in early September most likely as music festivals have made a return to opening.

There are regional differences in the index rating and likely are reflected by whether or not a country has lifted restrictions on music festivals taking place with near to normal capacity visitors permitted.
Country Index Rating
New Zealand = 100

Australia = 94

Taiwan

= 92

United States

=

90

Hong Kong = 67

United Kingdom

=

67

Ireland

= 60
When it comes to searches related to ticket purchase (of any festival type) the country split is slightly different and probably reflects the number of festivals actively selling tickets online.
Shopping Search Index by Country
Australia

=

100

United States

=

58

United Kingdom

=

16

Brazil

=

16
When broken down to the most trending search terms related to specific music festivals globally there are some key music festivals that are consistently getting the most searches and currently on the rise are the following events:
Hive.

Sunset.

Pitchfork.

Lollapalooza.

Bonnaroo
When looking at the data for just the UK only the most search festivals have been Parklife, Bestival, All Ponts East and the Reading and Leeds festival.

Also popular have been the more generic search terms which include 'summer music festivals', 'rock music festivals' and 'edm music festivals'. The trending search topics related to music festivals has certainly been trending up over the last 12 months and is likely to remain popular as more music festivals confirm their dates and headliners for 2022. Music festival organisers can easily check the data available from the Google Trends website at any time and input any search term they may be specifically interested in to help them gain their preferred insights.

For organisers planning their music festivals using a software management platform like Festival Pro gives them all the functionality they need manage every aspect of their event logistics. The guys who are responsible for this software have been in the front line of event management for many years and the features are built from that experience and are performance artists themselves. The Festival Pro platform is easy to use and has comprehensive features with specific modules for managing artists, contractors, venues/stages, vendors, volunteers, sponsors, guestlists, ticketing, cashless payments and contactless ordering.
Andy Robertson
<< Back to articles
Contact us
---
Get in touch to discuss your requirements.
US: +1 213 451 3866 (USA)
UK: +44 207 060 2666 (United Kingdom)
AU: +61 (0)3 7018 6683 (Australia)
NZ: +64 (0)9887 8005 (New Zealand)
Or use our contact form here.