<< Back to articles
Music Festival Site Environment Impact and Clean Up.
Andy Robertson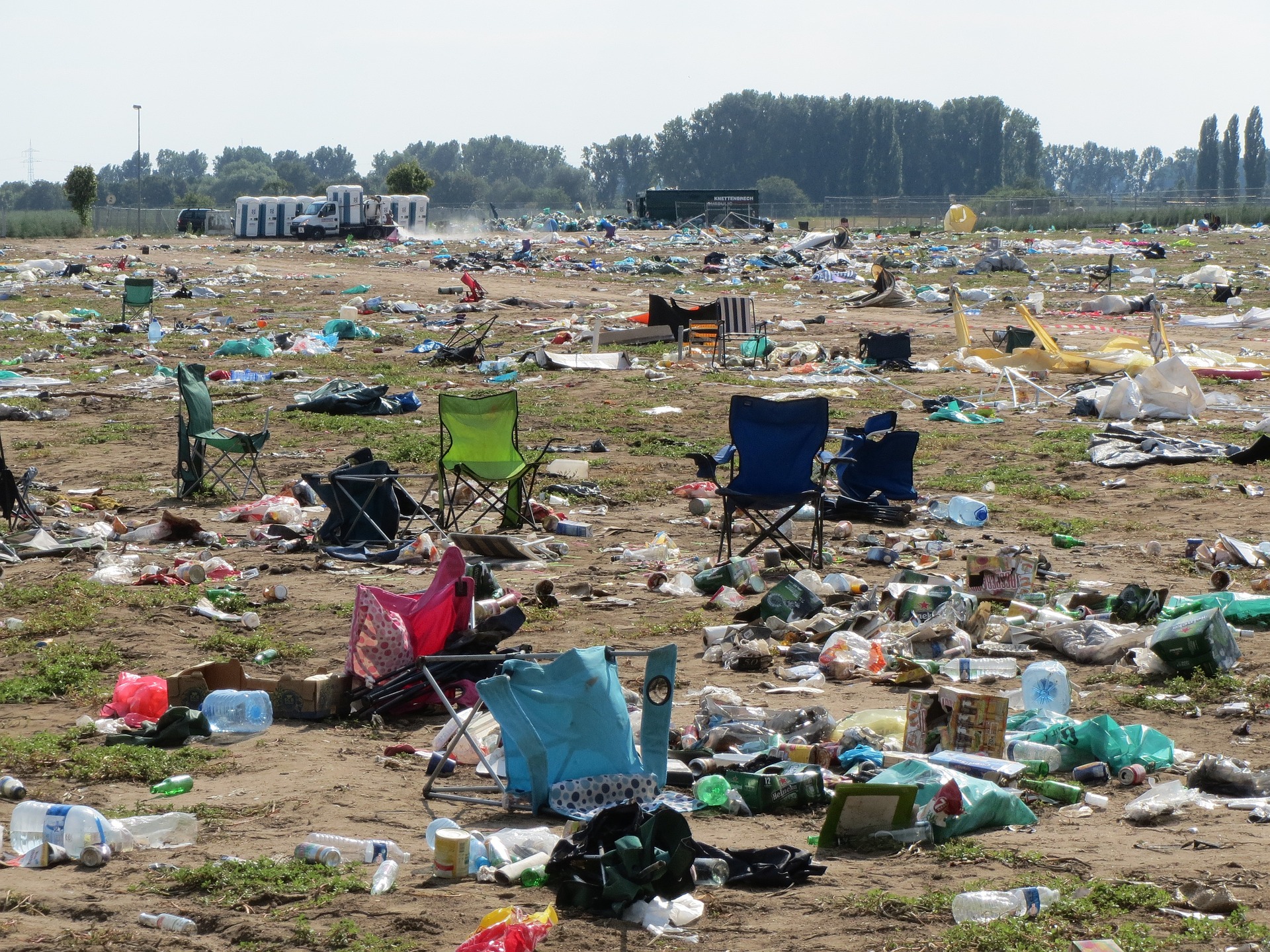 It's part of every music festival organisers responsibilities to ensure environmental sustainability which is a key part of their event management. After years of complaints from local communities and other concerned organisations about damage to the countryside or public parks after a music festival the clean-up operation post event is a vital part of every music festival.
This topic is still very current and is not only about waste management but also careful assessment of a festival site before and after an event to ensure that any damage is minimised. Festival organisers also need to assign a budget to manage all their environmental sustainability policies.
Environmental Assessment.
Before a music festival site commences build up it is essential to conduct an assessment of the current status of the site. This report should note existing plant life and wildlife along with a survey of streams and lakes plus the results of any testing of water and soil samples. Equally important is the current status of any notable landscape erosion both natural or man made.

Waste Management.
Having a clear plan for dealing with the festival site waste is key to managing waste, the impact on a site and how the clean-up operates. Considerations for recycling and minimising landfill should be made for these materials:
Plastics

Glass

Metals

Textiles

Wood

Food waste

Clinical and hazardous waste

Paper and cardboard packaging

Tents

Sewage (black water)
The waste management plan should clearly state types of materials along with how they will be separated and their final destination.

Policies and Procedures.
The event planning should include policies and procedures for waste management. One of the key aspects to this will be the training of staff and volunteers on how to implement the waste management plan. This is likely to include a clear communications strategy to inform waste management policies to event goers, vendors and contractors along with the provision of suitable facilities to enable waste collection and recycling.

The Clean-up.
Festival organisers could consider using the services of organisations like UpCycle who provide Eco-Rangers and the ExChange services to environmentally conscious UK festivals. Organisers should also produce an Environmental Impact Assessment (EIA) report post event. This may involve commissioning experts in the subject to survey a site post clean-up to investigate every aspect that affects environmental sustainability. The EIA report should include a summary of all waste types and percentages of recycling for the festival. This allows a comparison of targets against actual achievements and the formation of plans and targets for future events. The final EIA report summary should also be made publicly available and is essential for running future events. It also forms part of the organisers credentials for running environmentally sustainable events to interested parties who may include sponsors, vendors, licensing authorities and of course event goers.

For any event organiser planning their environmentally sustainable music festival using a software management platform like Festival Pro gives them all the functionality they need manage every aspect of their festival logistics. The guys who are responsible for this software have been in the front line of event management for many years and the features are built from that experience and are performance artists themselves. The Festival Pro platform is easy to use and has comprehensive features with specific modules for managing artists, contractors, venues/stages, vendors, volunteers, sponsors guestlists and ticketing.

Image by WikimediaImages from Pixabay

Andy Robertson
<< Back to articles
Contact us
---
Get in touch to discuss your requirement.
US: +1 213 451 3866 (USA)
UK: +44 207 060 2666 (United Kingdom)
AU: +61 (0)3 7018 6683 (Australia)
NZ: +64 (0)9887 8005 (New Zealand)
Or use our contact form here.