<< Back to articles
Events Management Software - One Size Does Not Fit All.
Andy Robertson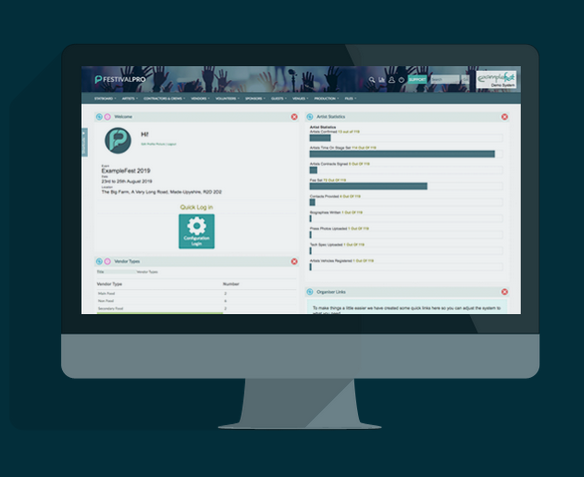 From small community events to large scale multi day music festivals most event organisers are using some kind of software to help plan and organise their events. There are still a handful of event organisers using a combination of spreadsheets and other planning tools but almost all have moved over to an event specific software platform.
For small community events that have free entry the use of event planning software is generally free and there are numerous options available for these small-scale events and the software packages available are generally quite adequate for their requirements. However, these software vendors often only make money once event organisers start charging for tickets and this can start getting expensive. Such vendors will charge higher commission rates on ticket sales and if the event has specific requirements that fall out of their standard event planning software parameters the functionality could have serious limitations.

For larger events with typically upwards of several thousand ticket buyers there are numerous software packages available for consideration, however, event organisers should assess any potential software solution carefully. Many packages contain multiple features common to events including ticket sales, artist management, vendor and sponsor management plus the ability to do project management. Unfortunately, these standard features are generally made to fit a wide variety of event types but not all events are the same. For some sub sectors of the events industry there are software systems than cater for specific niches, whether that be business conferences and exhibitions, touring bands or music festivals for example. However, even specialist event software can have limitations.

When assessing an event software solution event organisers should assess how customisable the software is and how easily this can be changed to fit an event's specific requirements. Ideally changes should be able to be made quickly and efficiently without a drawn-out timeframe of project specification and allocation of developer resource to make changes along with an associated high development cost. The ability to make rapid changes on the fly to customise software to fit the event requirements at a low cost is a huge benefit to event organisers.

In the current climate many software vendors are struggling and clearly there is some consolidation going on so event organisers should assess any potential vendor with care. The recent closure of the Marcato event software company has led many event organisers high and dry and looking at alternative event software platforms. Event software platforms that are good with robust functionality will surely prevail into 2021.

Using an events software management platform like FestivalPro event organisers get all the functionality they need to manage logistics and planning of their events safe in the knowledge that the system is easily customizable to fit the organisers exact requirements. The guys who are responsible for this software have been in the front line of event management for many years and the features are built from that experience and are performance artists themselves. The FestivalPro platform is easy to use and has comprehensive features for managing every aspect related to large scale events with the added bonus that if something is missing the team will endeavour to incorporate that missing feature into future releases. The team pride themselves in being customer and user driven when it comes to feature development.
Andy Robertson
<< Back to articles
Contact us
---
Get in touch to discuss your requirement.
US: +1 213 451 3866 (USA)
UK: +44 207 060 2666 (United Kingdom)
AU: +61 (0)3 7018 6683 (Australia)
NZ: +64 (0)9887 8005 (New Zealand)
Or use our contact form here.